Retour
Espace CDPQ is partnering with Front Row Ventures to support the next generation in venture capital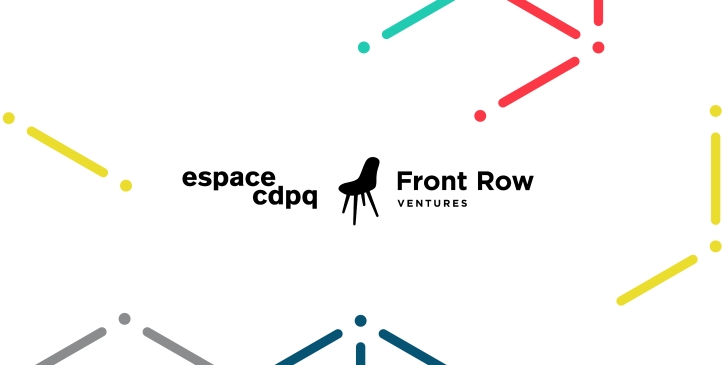 Espace CDPQ is pleased to announce a partnership with Front Row Ventures (FRV), the first Canadian venture capital fund that invests in promising university start-ups.. The two partners are uniting to support the next generation of the venture capital industry by organizing next January the very first internship fair. that will put FRV students in contact with venture capital firms in residence at Espace CDPQ. 
The next generation in Quebec venture capital 
The partnership between Espace CDPQ and FRV aims to offer students development opportunities and to accelerate aligning specialized labour with Quebec venture capital firms. 
"Front Row Ventures students represent the next generation of venture capital investors," according to Andrée Lemay, General Manager of Espace CDPQ. "The partnership allows us to proactively respond to the need for talent of the venture capital firms that are partners of Espace CDPQ as well as to contribute to enhancing the skills of the industry." 
An immersive venture capital training program 
Present on over 20 university campuses in Quebec and Ontario, Front Row Ventures allows select students who have trained in theory for four months to then invest seed money for eight months in the most ambitious university start-ups. At the end of this process, a first institutional investment for the founders of start-ups and an unparalleled "in vivo" experience for investors students. 
"Espace CDPQ was an early supporter of Front Row Ventures. It's a custom-made partner for us since our missions are strategically linked: nourish the ecosystem with the best talent and make impactful investments and co-investments", adds Emmanuelle Coppinger, Managing Director of Front Row Ventures.
About Espace CDPQ
An initiative of the CDPQ, Espace CDPQ is a venture capital hub uniting partners and collaborators around the same ambition: accelerate the growth and globalization of Quebec SMEs.  Its goal is to combine the networks, expertise and means of 15 Espace CDPQ partners to benefit Quebec companies. Together, the partners, which include investment firms and organizations specializing in business development and coaching, represent a network of more than 1,250 companies of all sizes and from all sectors, as well as over 12 billion in capital under management. For more information about Espace CDPQ, please visit our website espacecdpq.com, follow us on Twitter @espacecdpq or consult our Facebook or LinkedIn pages. 
About Front Row Ventures
Front Row Ventures is a non-profit organization whose primary mission is to invest in student talent. The goal is to address the shortage of talent in the ecosystem by unleashing freeing untapped student potential, both in terms of start-up founders and operators as well asventure capital investors. To do so, FRV invests in start-ups emerging from university campuses and trains the next generation of venture capital investors. Founded five years ago by three ambitious and visionary students, the organization has deployed $600,000 in capital, has now 22 companies in its portfolio that have raised over $50 million in subsequent rounds and has trained over 200 students, and is growing every year.