Retour
Espace CDPQ wins the "Corporate Champion of the Year 2021" award at the Startup Community Gala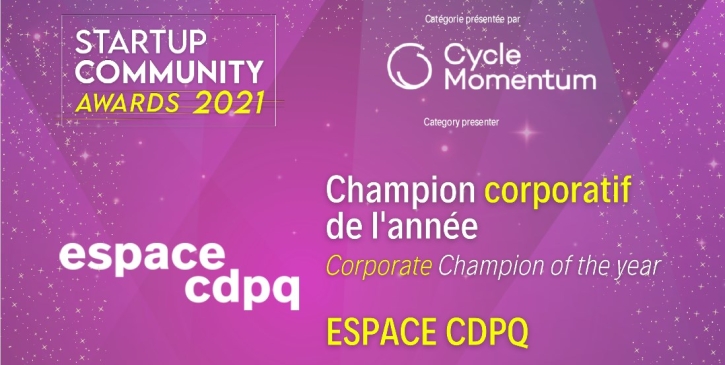 Espace CDPQ is proud to have won the "Corporate Champion" award at the 3rd edition of the Startup Community Gala organized by the Osmo Foundation, Startupfest and Montreal NewTech on December 3rd. 
This event is a celebration of, by and for the community that honors those who build Quebec's innovation ecosystem. The award category, as announced at the gala, recognizes each year a company that has made a significant and consistent contribution to the success of the startup ecosystem. 
"This is a significant recognition for Espace CDPQ, as it marks five years of achievements and an increased presence within the ecosystem to support the growth of young innovative Quebec companies," says Andrée Lemay, General Manager of Espace CDPQ. 
As a venture capital hub in Quebec, Espace CDPQ intends to continue fostering links between promising companies and venture capitalists. It will aim to strengthen the maturity, expertise and capabilities of the innovation financing industry in Quebec, thereby increasing its dynamism and vitality to better support the development of innovative SMEs.
About Espace CDPQ
An initiative of the CDPQ, Espace CDPQ is a venture capital hub uniting partners around the same ambition: accelerate the growth and globalization of Quebec SMEs. Its goal is to combine the networks, expertise and financial means of the 15 partners at Espace CDPQ to benefit Quebec companies. Together, the partners, which include investment firms and organizations specializing in business development and support, represent a network of more than 1,250 businesses of all sizes and 12 billion in capital under management. For more information, visit espacecdpq.com, follow us on Twitter @espacecdpq or consult our Facebook or LinkedIn.