Retour
Espace CDPQ launches its "Hub" initiative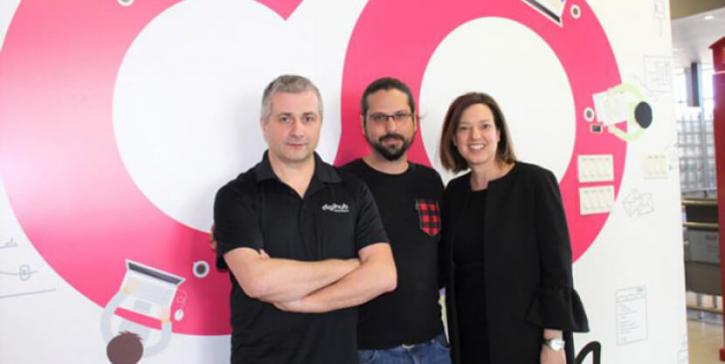 Hub initiative launch photo
To provide entrepreneurs from across Québec with access to its investment and development network, Espace CDPQ is launching a new initiative and appointing three accelerators to the Québec "Hub" of Espace CDPQ.
By drawing on the expertise of its 16 partners, including 11 investment firms and five development organizations, Espace CDPQ intends to work in collaboration with three accelerators selected to drive the growth and international expansion of their businesses.
LE CAMP is an incubator-accelerator dedicated to the growth of technology companies and to developing technology company creations. Located in Saint-Roch, at the heart of Québec City, it provides access to acceleration and incubation programs and professional development and networking activities. LE CAMP is administered and facilitated by Québec International, the economic development organization for the Québec City region.

The DigiHub Shawinigan, 3rd digital hub in Quebec, allows the advent and growth of digital startups through its four specialized divisions: digital entertainment, heritage and digital museology, the factory 4.0 and digital health. Its mission is to provide an environment conducive to innovation, particularly through its FabLad and its two Living Labs.  Shawinigan's unique ecosystem has become an example for Quebec's regions, and the provincial government has given it the mandate to establish the National Network of Regional Innovation Centers across the province.

Over the years, ACET has developed a strong reputation and leading expertise in the start-up and development of technology companies resulting mostly from the research of students and professors at Université de Sherbrooke (UdeS). Since its creation in 2011, ACET has developed 70 company projects in various technology sectors, and these projects have created over 260 jobs.  ACET is part of UdeS's Innovation, Partenariats, Entrepreneuriat strategy, which supplies the entrepreneurial ecosystem of Sherbrooke and Québec.

By becoming an Espace CDPQ "Hub", the three accelerators will now have preferred access to the Québec venture capital ecosystem, a network of more than 1,250 companies of all sizes and sectors, and bridges to more than 170 countries, as well as benefiting from numerous advantages and services, including:
An "expert-investor" clinic led by Espace CDPQ partners
A "technology bridge" to facilitate virtual collaborations
A 48-hour Espace CDPQ bootcamp for five of their companies
Access to Espace CDPQ and its resources and network
The three "Hub" accelerators were selected because they:
Represent best practices of their sector
Offer concrete solutions to support Québec SME growth
Contribute to local and international development of Québec SMEs
Invest exclusively in sectors of the future (technological innovations)