Retour
UEAT: Reinventing how we order at restaurants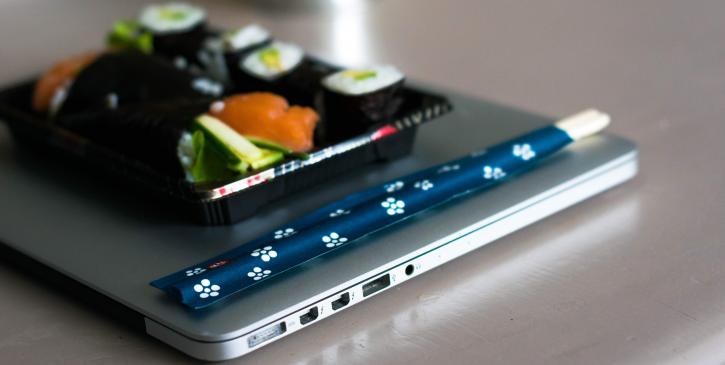 Sushi dinner for take out on a laptop
It's no secret that Québec's restaurant industry is facing several challenges. A chronic lack of staff and difficulty in generating attractive profit margins are just two examples. UEAT has made restaurateur's lives easier by providing innovative technology that reduces labour costs, increases sales and fosters customer loyalty.
UEAT is currently experiencing strong growth. With a huge potential market, the young company is aiming to become the global leader in its industry. Founded by five entrepreneurs from the Québec City region who are not first-time entrepreneurs, UEAT provides restaurateurs with robust and innovative solutions that make it possible to place orders online from the restaurant's website or app. The company also offers self-serve ordering kiosks which, once installed in the restaurants, allow customers to browse the menu, order and pay without having to wait in line at the cash register.
In early 2016, Martin Lafrance, Alexandre Martin, Matthew Perron Alexander, Bernard Imbert and Sébastien Huot came up with the idea of working with restaurant owners after noticing that most of them didn't have access to simple and affordable tools for online sales. "Unless you were a major player with vast financial resources, the only options for online sales were platforms offering products for delivery from several restaurants," points out Martin Lafrance, UEAT's President. "But these types of services, which restaurateurs pay for with a percentage of their sales, reduce their profit margins, which are already weak. We felt that we could offer them something better."
After meeting with about 50 restaurant owners to get a good understanding of how the industry worked and its challenges and opportunities, UEAT's founders created a solution that would be user-friendly and efficient for both restaurant owners and their customers. They signed their first contract with the Yuzu restaurant chain in June 2017, and UEAT officially launched a month later.
Rapid growth and integrating AI into the business model
Two and half years after officially launching, UEAT now has about 40 employees and many clients in Québec, elsewhere in Canada, the United States and the U.K. "Our business model is simple: our clients pay fixed monthly fees to access our solutions," says Martin Lafrance. "Our target market consists of chains with 5 to 200 restaurants, which is a market considered too small for major players in restauration technology and too large for independent developers."
Expanding rapidly, UEAT will soon be moving its teams to its head office currently under construction on Charest Boulevard in Québec City. Their offices will be able to accommodate up to 130 people. The company's founders are thinking big and want to conquer the world with their ordering tools, including customer loyalty programmes, display screens and point-of-sale systems.
UEAT also integrates AI into its solutions to offer a unique customer experience. For example, the innovative tool can dynamically customize menu displays according to each user's food preferences. 
The company spent over a year developing its first data analysis algorithms, notably from its offices at Espace CDPQ | Axe IA, which helped speed up the development and training of its analysis models.
Focusing on a target market and developing the best solution
UEAT has the wind in its sails. Its already widely used technology has been shown to increase the check for average orders by 30% to 40%. For Martin Lafrance, the company's focus going forward is clear: "We have to concentrate on execution—namely, providing good customer service to our clients and delivering what we promised them, which is an efficient, high-performing solution that makes their lives easier. That's why we have to stay focused. It would be easy to fall into the temptation of adapting our technology to the needs of another industry, but we know that to be the global leader in a market, you have to focus on that market. It's essential for our long-term success."
WANT TO LEARN MORE?
Visit UEAT's website.