Retour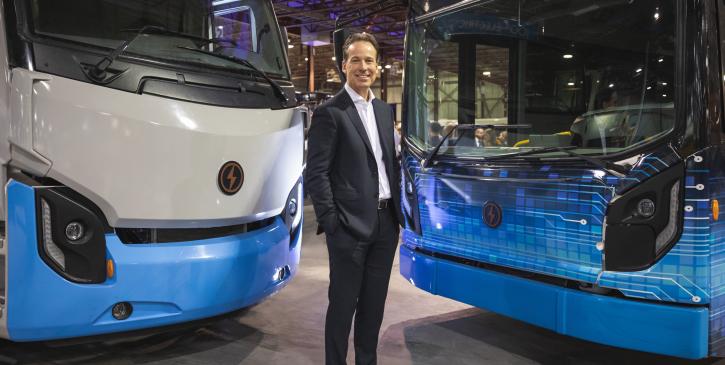 Marc Bédard, President and Founder of Lion Electric.
The king of the jungle. That is how a financial analyst recently described Lion Electric when discussing what the future of the electric truck and bus industry. After 13 years of research and innovation, the lion is about to roar.
March 2021: Lion Electric, which is based in St-Jérôme, became an instant household name after announcing the construction of a battery manufacturing plant and innovation centre. In fact, this $185 million investment is only an extension of the efforts made by the company since 2008. The work of its artisans and the converging forces of key investors who joined the company on this adventure are now making it possible for it to set its sights on a North American market valued at some $110 billion—while at the same time doing its part to change the world.
Interview with Marc Bédard, the President and Founder of this technology leader that is firmly rooted in Québec.
Q:    Please describe Lion Electric in a few words
MB:    Lion was created in 2008, initially as a result of an entrepreneurial dream that I'd had for a number of years, and then due to the desire to revolutionize the medium and heavy-duty vehicle industry. In 2010, we decided that electric vehicles were the way of the future and that they needed to be designed from the ground up based on this new technology. But it wasn't a shared vision. Remember that even Tesla was not yet well known! I invested everything I had in the company, put together an incredibly strong, passionate and dedicated team and we worked like crazy—seven days a week, year after year—to the point that it sometimes seem like one year working for Lion was like working seven years elsewhere.
Today, unlike many other players who came into the electric vehicles industry after us, Lion is "real": our electric vehicles have been on the road since 2016 and we are several years ahead of our competitors. With our investments in innovation, we fully expect to remain one step ahead.
Q:    What was your strategy for developing products?
MB:    We started with the school bus market. This industry had seen very little change in decades—be it in terms of powertrains, materials or operator experience. We thought that it would be easier to experiment with new electric technology because bus routes are relatively short and predictable. I was lucky to convince Camille Chartrand, who spent several years as the President and CEO of school bus maker Michel Corbeil Entreprises, to become my partner in the business. Camille brought all of his industry and manufacturing know-how while I focussed my efforts on developing the new business model. Our first bus hit the road in 2016 and, today, we are the leader in the North American electric school bus market.
From a more philosophical point of view, we also found that in reinventing the vehicles that our children ride in every day, we were proving that we were in this for the right reasons: our goal was to change the world in order to leave something better for our children.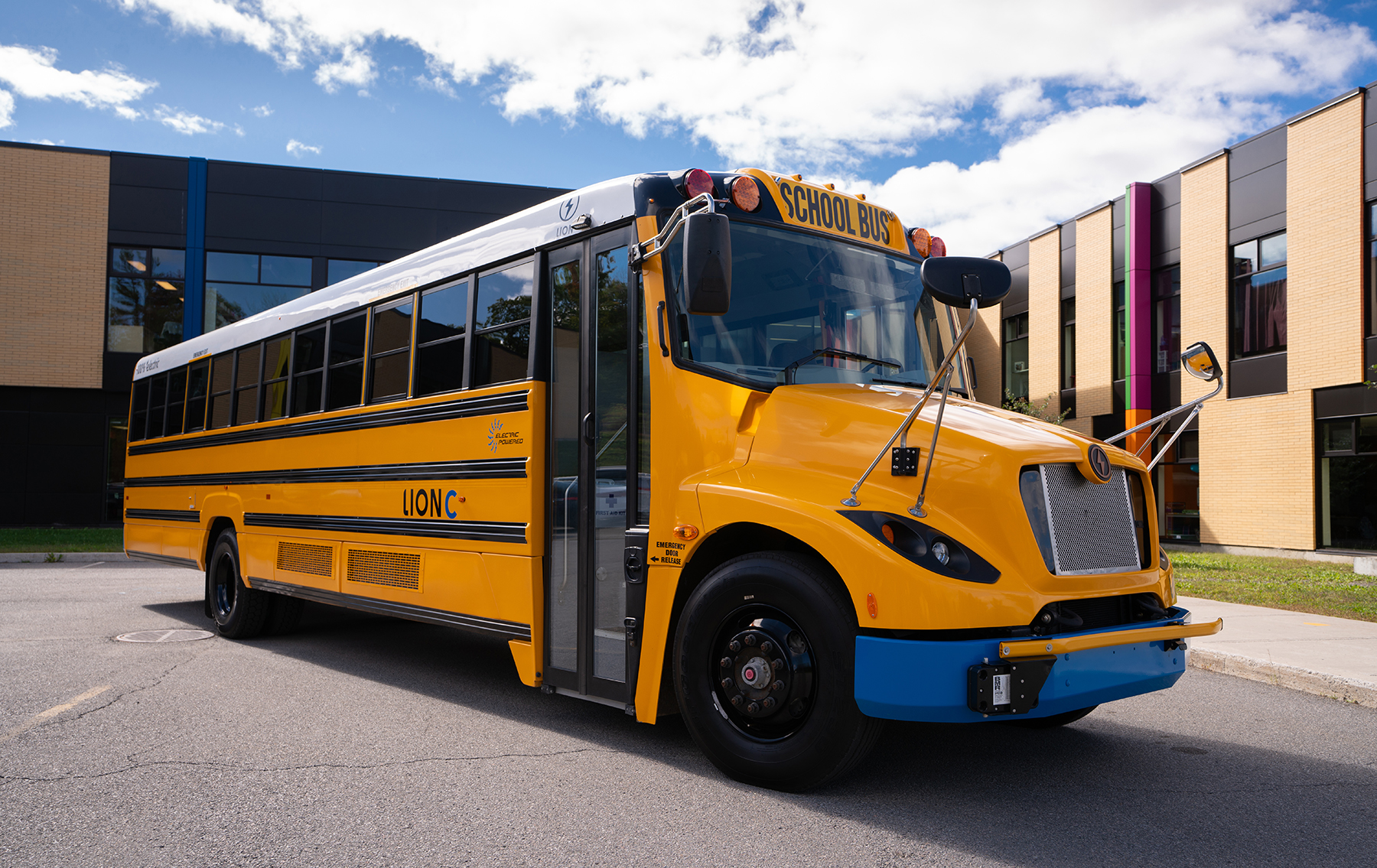 Q:    You also produce a suite of electric vehicles, some of which will soon be delivered to Amazon, as well as an electric vehicle for adapted transport. Did you develop these vehicles after launching your electric buses? 
MB:    Before! In fact, some people on the team were asking me: "can't we stop development just before launching our first product?" The answer is "no". We will never stop developing. In fact, we had gauged the interest of many customers for medium and heavy-duty electric trucks and the interest was huge—even if the form that the product would take was still hard to imagine. In 2015, we made a commitment to develop a fleet of electric trucks to be launched in 2020–2021. In 2017, following the success of our buses, we had solid credibility and were able to raise the additional capital that we needed.
At the same time, we developed our first electric mini-bus for adapted transport, which holds particular meaning for me. When I was younger, I put myself through school by working as a personal support worker and that experience shaped who I am today. I believe strongly that we need to take care of others, so we re-imagined this type of vehicle from A to Z.
Q:    Is the next step light vehicles, i.e. cars? 
MB:    That's not our intention. The electric vehicle market will soon be served by a large number of reputable manufacturers. In comparison, electric trucks and buses are a niche market and very few players were giving this market the attention that it deserves. It is also important to remember that we're in an industry that requires major capital injections. Even if we have lofty ambitions, we also know that you need to walk before you can run…and then be able to run fast and for a long time. We are therefore focussing our efforts on the North American market while keeping an eye on the world, which we may take on one day with a different business model.
Q:    Since you mentioned capital, what role did venture capitalists play in your development? 
MB:    An incredible role. I often say that our Board of Directors is a "board of advisors." Each financing round provided not only capital but also—and especially—strategic partners who were committed and played a key role for Lion. Of course, our initial investments were especially "love money" with a bit of venture capital. The arrival of XPND Capital in 2015 was a turning point. The team shared our vision and we leveraged their expertise and networks. Then, Power Corporation came on board in 2017. lnvestissement Québec and the Fonds de solidarité FTQ were by our side all along the way.
We're now at a stage of growth where we need hundreds of millions of dollars in capital. We went public in 2021, even if this was not initially part of the plan.
Q:    Where will Lion be in 10 years? 
MB:    I hope that we'll have helped to save one little corner of the planet! And to create a world where six and seven year olds riding in our electric buses today will not have to make a decision when buying their first car one day: everyone will be driving an electric vehicle.
LION ELECTRIC AT A GLANCE
Item
Initial private investment round:
Delivery of first electric school buses:
Delivery of first electric trucks:
Fully electric medium and heavy-duty vehicles to transport people and merchandise
More than 650, including over 200 engineers
Publicly listed (Toronto, New York)