Retour
A day chock full of venture capital for innovative Québec entrepreneurs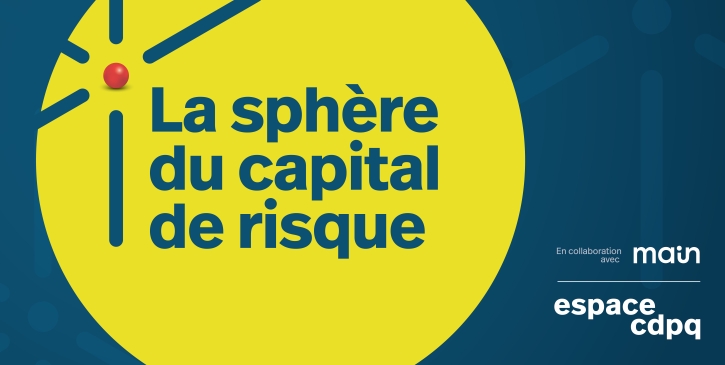 In collaboration with the Mouvement des accélérateurs d'innovation du Québec (« MAIN ») , Espace CDPQ organized La sphère du capital de risque, a full-day event focused on venture capital and hyper growth, for two dozen promising entrepreneurs from across the province. The two organizations combined their respective networks to offer virtual programming that consisted of panels, testimonials and personalized networking opportunities with venture capital investors.  
Among other things, the various invited panelists shared numerous tips. Here are but a few examples of how venture capital can add value for entrepreneurs:  
"A venture capital investor is a true partner who will bring experience to your operations and value to your business, helping you grow quickly but also go after market share," said Magaly Charbonneau, Partner at Inovia Capital.
"Venture capital is partnership capital, intended for companies experiencing strong growth," added Sophie Forest, Managing Partner, Brightspark Ventures. "We will invest in companies that have the potential and the drive to greatly accelerate their growth, and we will become a long-term partner." 
La sphère de capital de risque also included a testimonial by the two entrepreneurs behind TrackTik: Simon Ferragne, President and Founder and Julie Lacasse, Co-Founder and member of the company's Board of Directors. They spoke about their entrepreneurial experience, the challenges they faced along the way, and the rounds of venture capital financing that propelled them forward. 
The last workshop on the program dealt with marketing and financing practices in California, with an emphasis on the market as well as the trade practices and strategies needed to break into the Silicon Valley ecosystem.
Learn more about the participating companies: 
Concept GEEBEE Inc.
Creation of electric vehicles for sustainable and intelligent travel.
Elo
A turnkey mentoring platform designed to facilitate integrations of mentoring programs in organizations. 
Femtum
A patented next-generation laser for advanced manufacturing. 
FILO
Production of household products and soaps in tablet form, to be mixed with water for use at home, thereby reducing waste.
Foxtrot Industriel
Unique technology that allows any load to be moved in every direction. 
GPHY
GPHY combines a Web-based infrastructure management platform with the first fully wireless docking station on the market.
HerbiaEra
A thoroughly modern planter, connected to a mobile app, that doesn't require a green thumb.
Incia Digital Bank
Digital bank that offers solutions for cryptocurrencies such as Bitcoin and Ethereum as well as NFTs.
Innovention Inc
An intelligent digital assistant that uses artificial intelligence, including automatic natural language processing, to answer your users' questions. 
KARGO-EV
An electric vehicle made of aluminum, for use in industrial and institutional environments. 
Laboratoire Innodal
Developer of natural antimicrobial agents, particularly in the field of food bioconservation.
LIBU Life Button (GRB Technologies)
Anti-microbial elevator buttons.
Lux Aerobot
Lux is a space robotics company specialized in the design, manufacture and operation of high-altitude platforms for Earth observation.
Nexus Robotics
An autonomous weed control solution that employs AI.
niosense
niosense improves traffic-light management with a treatment that is adapted to each type of vehicle in order to optimize mobility and reduce transportation-related GHG emissions.
Omy Laboratoires
Omy Laboratoires is the only Canadian company specialized in customizing skin care products (creams and serums) through the use of AI. It offers its products online (B2C).
Ozero Solutions
Offers municipalities a solution for decontaminating the inner walls of piping and individuals a way to decontaminate the hulls of their watercraft.
Saguaro Technologies
A biotech startup to help scientists accelerate the discovery of new cancer therapies.
Shapeshift 3D
Software that automates the customization of medical, protective and sports equipment, enabling a new era of manufacturing in which everyone's quality of life is improved through better-performing, more affordable, and sustainably made products.
Spectronix 
A startup that is developing artificial intelligence related to movement and behaviours. 
Tchat N Sign
Tchat N Sign simplifies the signing of documents with electronic signatures and groups communication channels under a single platform connected to your CRM. 
Vireo
Innovative urban agriculture products for better access to fresh food.
WALO
An app and a prepaid card that are used to teach young people how to manage their savings.
WeChalet
Connects customers with unique rental homes, cottages and condos in natural surroundings.
Wyhn
Takes care of all the needs of the actors involved in school transportation.
As for the selection process, the companies were referred by the network accelerators and selected by a committee at MAIN, our collaborating partner. 
This event is part of our partnership with MAIN, which connects innovative companies across Québec with venture capital investors who partner with Espace CDPQ.